Reminder for parents - School Picture Day is coming up next week on Thursday, October 28th. Order forms have been mailed out, and you can order ONLINE! just follow the directions on the order form. A copy of the order form is also attached to this posting.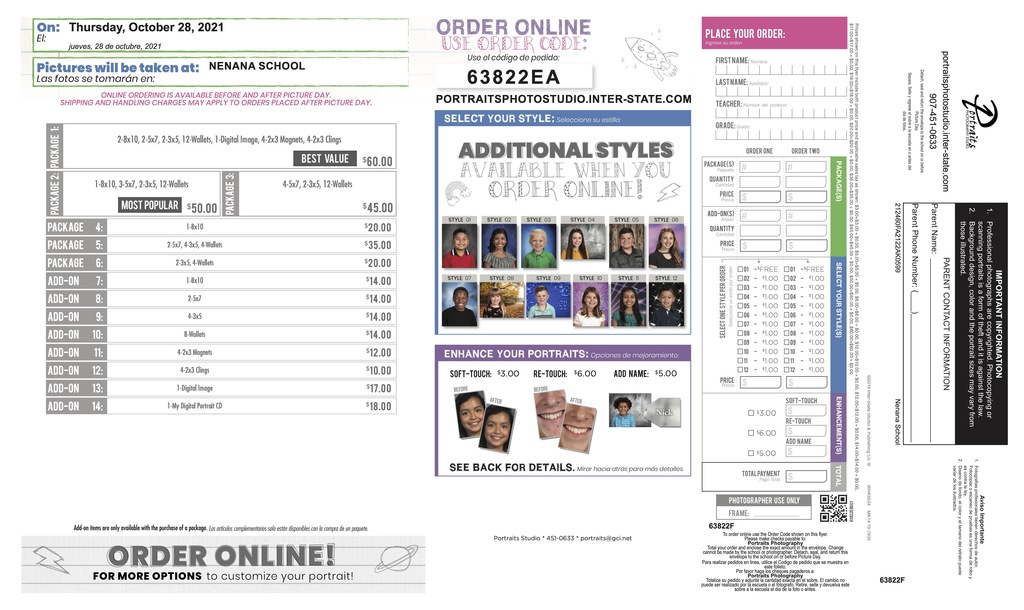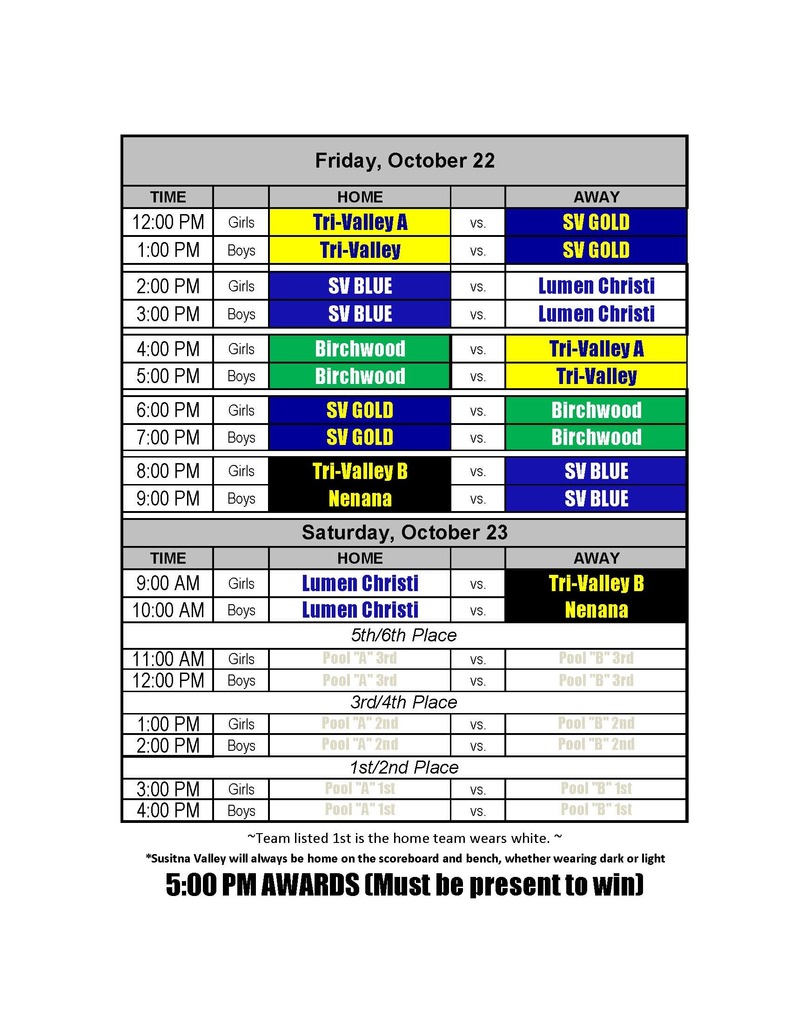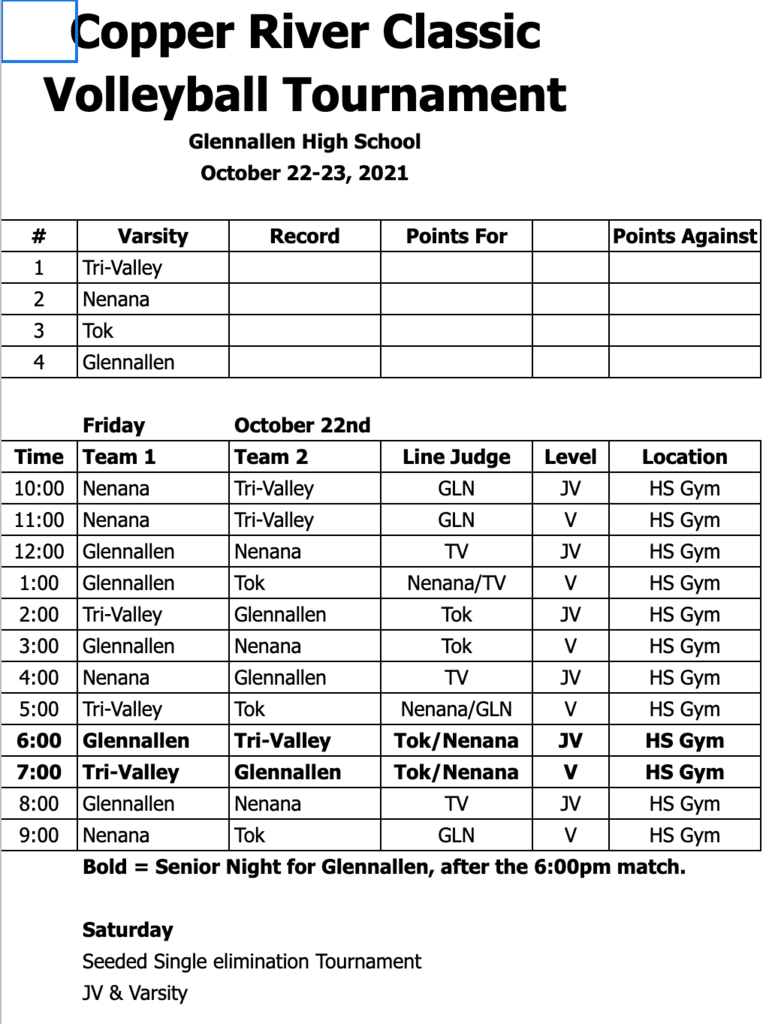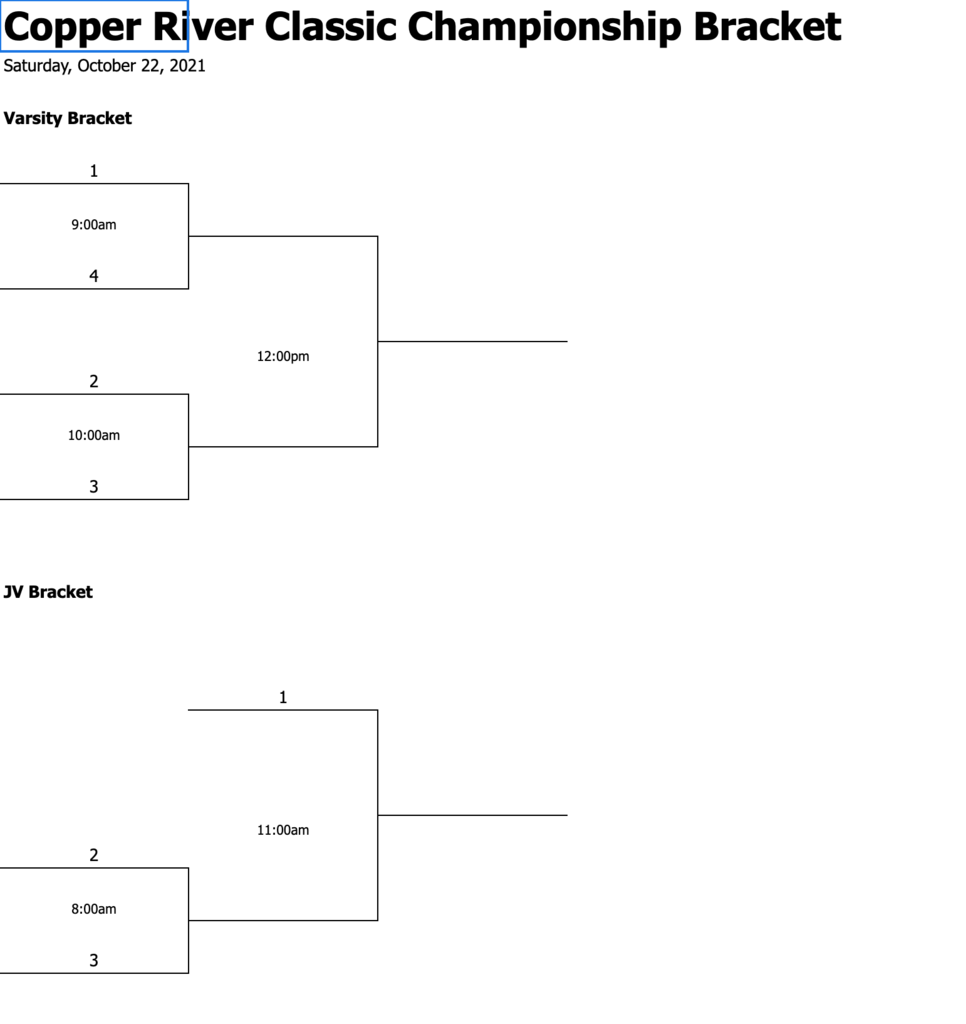 Attention Parents: Middle School basketball games scheduled for this weekend with Glennallen have been cancelled.

The School Board would like to say thank you to Principal Huntington and Principal Rozell for their great leadership within Nenana City School District! Please join us in #ThankAPrincipal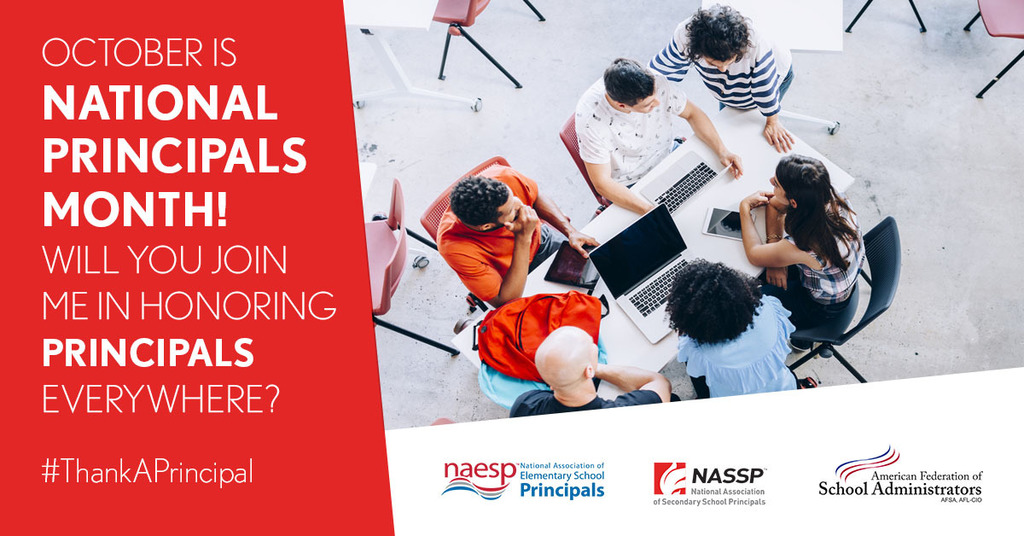 Reminder for parents, NO school this Friday, October 8th. It is a Teacher Inservice Day, and the school will be closed.

School Picture Day is on the calendar for October 28th! You can order ONLINE, or send your order to the school office. An order form is attached to this posting (: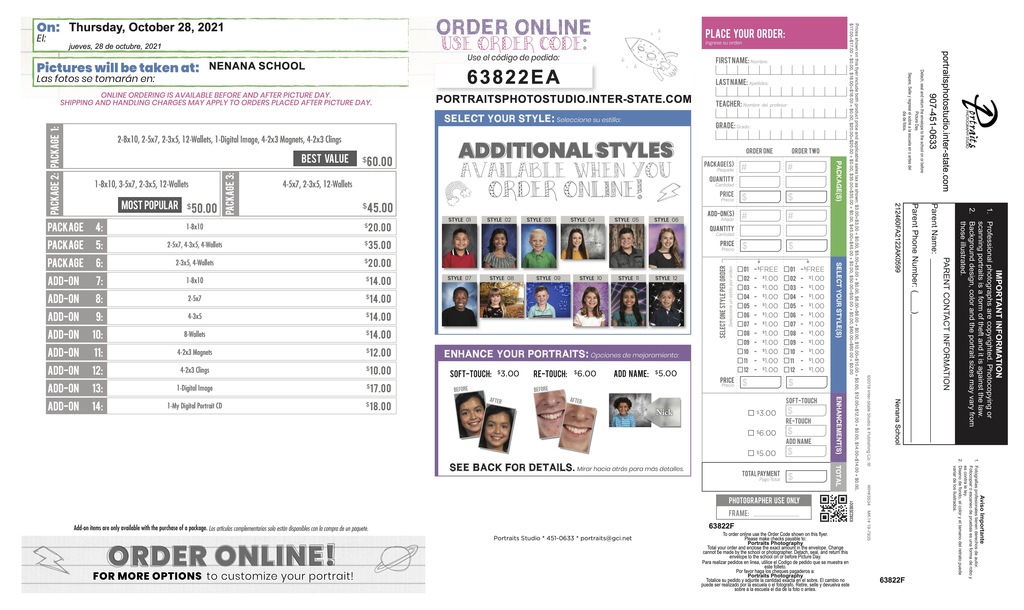 NCS Friday Update 10-1-21 Greetings Lynx Friends and Families, I hope this message finds you well as we turn another page on the calendar. It is also my hope that many of you were able to connect with our teaching and/or student support staff during parent/teacher conferences. Our priority was to establish open lines of communication and an update on student progress. Please do not hesitate to reach out at any time with questions, concerns, or if you seek information regarding your student. Looking ahead, October will be an extremely busy month. Quarter one ends on Friday, October 15. Plans continue to develop for Enrichment Week during the week of October 18. In the coming weeks, students will be provided an overview of the schedule for the week, workshop offerings, and workshop signups. Soccer, Volleyball and Cross Country teams are in competition over the weekend. Next weekend, Nenana will be hosting a Volleyball tournament with games Thursday through Saturday. There are no classes on Friday, October 8. Drivers Education is being offered 10/8-10/9. With participation being limited, students who've been selected for this first round of training have been informed of their participation and have been provided details. Beginning Monday, October 4 there will be after school tutoring available M/W from 3:30-4:30pm and T/Th from 2:30 - 3:30pm. This opportunity is available for middle and high school students. Students should report to the Student Resource Center (aka Library) promptly following release from class if they wish to participate. Students are expected to come prepared to work or they may be asked not to return. As always, we appreciate your support and trust in our program. I can assure you that we are doing all we can to meet the needs of students. Kind regards, David R. Huntington Principal, Nenana City School
dhuntington@nenanalynx.org
907-832-5464 (NCS office) District Website:
www.nenanalynx.org

Early Release at 2:00 pm this Thursday and Friday, September 30th & October 1st for Parent-Teacher Conferences. Dear Parents/Guardians, Below is the agenda for conferences coming up September 30th and October 1st. Thurs, 9/30 2pm-4:30pm Friday, 10/1 2pm-3:30pm Mrs. Andy Corbin has pre-scheduled conferences for students in grades K-8, schedules are included in this mailing. These can be phone conversations, Zoom meetings or in-person, please let your student's teacher know what you choose to do. If you have conflicts with the schedule, please contact the teacher directly, or call Andy Corbin. Meeting lengths will be predetermined to ensure equity in length for each family that confirms their intentions to attend. Similarly, if local parents of students in grades 9-12 wish to schedule meetings in-person, please contact Andy Corbin and/or teachers of your student. The default will be teachers reaching out to parents/guardians of students in their Xblock classes to discuss student progress, goals and to address any questions. Teachers will either reach out via phone during the window for conferences, or be in contact with parents to schedule Zoom meetings in advance. Again, if you wish to meet either in person or virtually with a teacher, please do not hesitate to reach out to Mrs. Corbin or teachers directly. We strongly encourage students to participate in these conferences, regardless of format. (this information was also mailed to parents last week)

Dear Nenana Community, Nenana City School staff are in the planning phase of an enrichment week, which will be offered to students in October. During the week of October 18, in addition to core instruction, we hope to provide a series of enrichment workshops to students at the secondary level, and embed enrichment activities throughout the week in the elementary grades. Enrichment workshops and activities will have a focus on STEAM (science, technology, engineering, art, math), Alaska Native Arts and Culture, and Career and Technical Education. In addition, secondary teachers may offer workshops with a focus on Life Skills, Consumer Science, Literacy, Music, etc. Northern Industrial Technology (NIT) is partnering with the school to offer workshops such as Drivers Education, Intro to Marine and Outboard Engines, ATV/Snowmachine maintenance, Microsoft Office Systems, and Virtual Reality Welding. Also on site will be Fairbanks trade unions and military recruiters. We are seeking Community Members to lead workshops in any of the following areas or other areas of enrichment. Workshop leaders will be compensated $25/hr; Beading, fish cleaning and canning, skinwork, music and dance, language and storytelling, indigenous food preparation, jewelry, dog mushing, business/finance skills, arts/crafts (school/tribe will have grant money available to support purchases of materials for workshops). Workshops will run for 70 minutes on M/W/F. There will be three consecutive workshop sessions as follows: 11:35 - 12:45am 12:50 - 2:00pm 2:05 - 3:15pm Workshops will run for 85 minutes on T/Th. There will be two consecutive workshop sessions as follows: 11:35 - 1:00pm 1:05pm - 2:30pm If you are interested in leading a workshop, please contact Nenana City School Transition Coordinator, Teena Calkin (
tcalkin@nenanalynx.org
) or school Principal, David Huntington.

NCS Friday Update 9-10-21 Greetings Lynx Community, The completion of this week marks the midpoint of the 1st quarter. Student/Parent/Teacher conferences are scheduled for Sept.30-Oct.1, which will provide an excellent opportunity for parents/guardians to connect with teachers to debrief on student progress to date. Please stay tuned for more information as the dates draw closer. Over the last 7-10 days, school staff and students managed to overcome the first encounter with a COVID-positive school community member and the subsequent close-contact exposures. The result was a handful of teacher and student quarantines. Under public health guidelines, students do NOT need to quarantine as close contacts when exposed to a positive patient, so long as the individual was masked. Moving forward, beginning Wednesday 9/15, the choice to mask will be that of individual students/families. As always, masks are encouraged if experiencing any Covid-related symptoms. On site screening is also available by appointment. Face masks won't be expected of students involved in extracurricular activities unless required by the Alaska School Activities Association (ASAA). However, staff and all spectators must wear a mask during extracurricular indoor activities. -- David R. Huntington Principal, Nenana City School
dhuntington@nenanalynx.org
907-832-5464 (NCS office) District Website:
www.nenanalynx.org

9-9-21 Greetings Nenana Lynx parents! Mr. Guy and Ms. Olivia are pleased to announce that Jr. High basketball is coming soon to theatres near you! Any students grades 5-8 who are interested in playing basketball can meet us in the gym on Monday from 3:30-5:00 to declare interest. Official practices will begin Monday-Friday from 3:30-5:00pm this Tuesday, September 14th. In case our names aren't familiar to some, we joined the Nenana community in the fall of 2019 and have loved our time here so far. We look forward to coaching and invite you to contact us with any questions you might have. Mr. Guy -
glayfield@nenanalynx.org
(English Language Arts 9-12, Storytelling, Classroom Librarian, & Coach) Ms. Olivia -
olayfield@nenanalynx.org
(Paraprofessional & Soccer/Basketball Coach) If you have questions that can't be answered via email, you can also call or text us at (410) 746-3448.

Beginning Wednesday, September 1st, Nenana City School has initiated universal masking for all students and staff while in the building. Universal masking of both vaccinated and unvaccinated individuals will continue for a minimum 14 day period. In addition to several people with common colds, there has been one confirmed positive test for COVID-19 within our immediate school community. A full contact-tracing has been completed and those who have been in close contact with the positive individual have been notified by the school nurse. We continue to prioritize health and safety; we are doing our very best to keep our doors open and kids learning!

Soccer has Begun!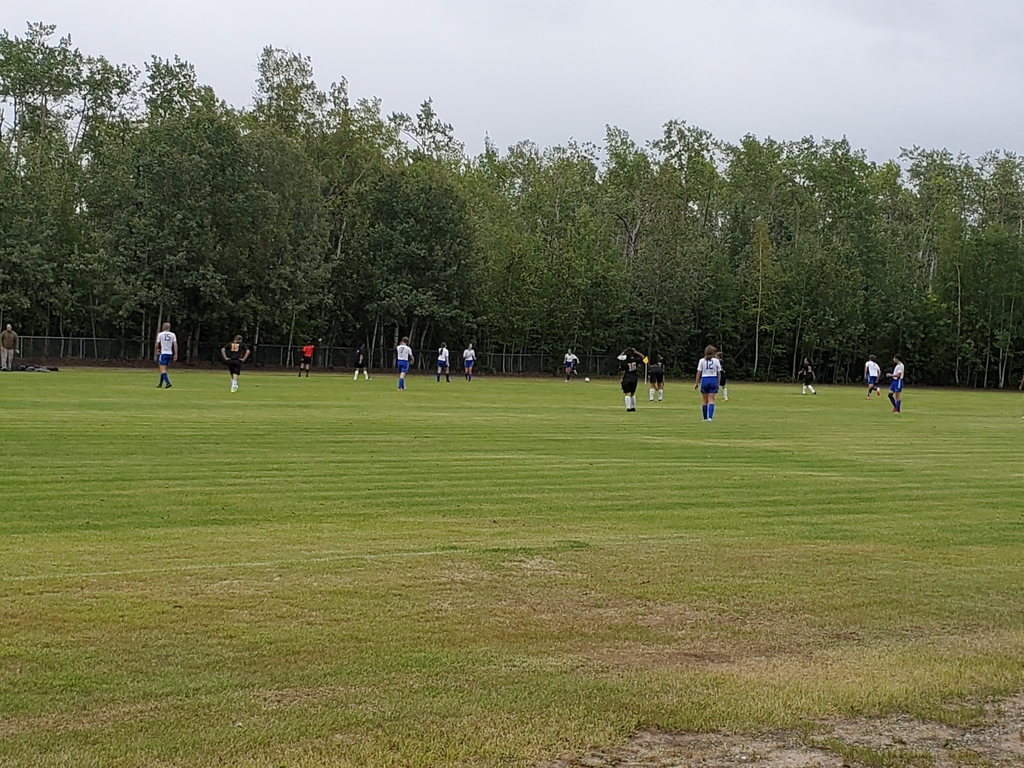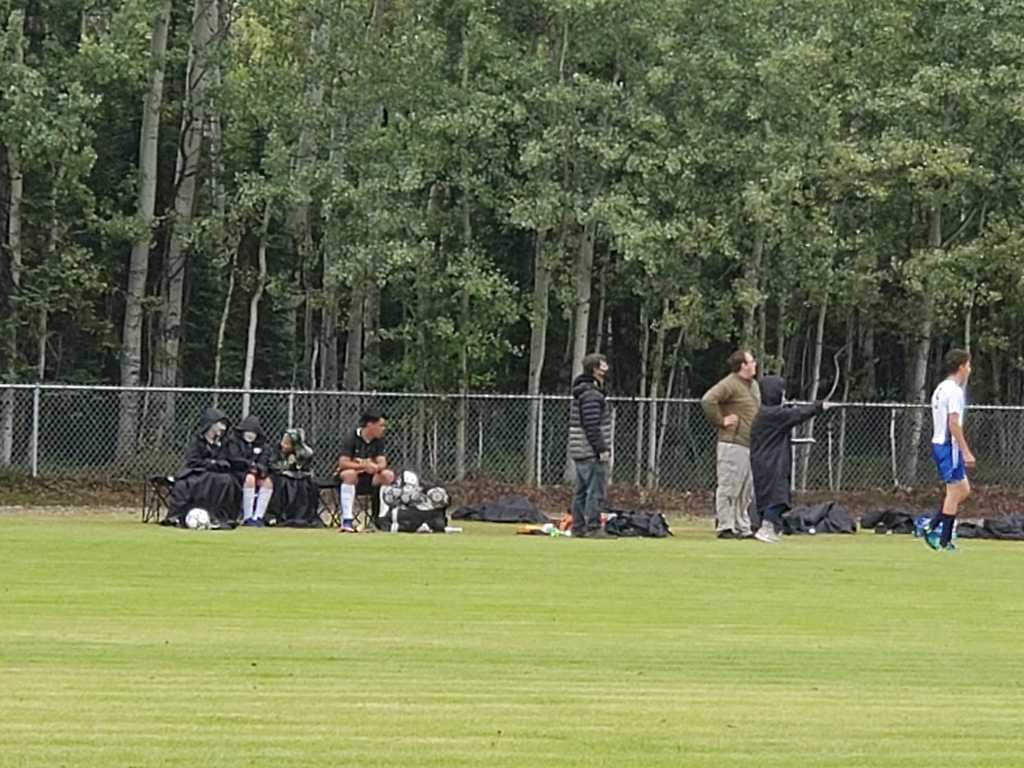 8-20-21 Friday Principal Update Dear Parents/Guardians, It was such a pleasure having students in the building all week. Our time together was well spent, as we focused on relationship-building and acclimating to the academic day, routines, expectations and opportunities. We've asked secondary students to think hard about what they want their school year to look like, along with the attitudes and values that will be important to their success. A number of guest speakers addressed secondary students throughout orientation. Speakers included tribal elders from the Nenana Native Council, associates from Railbelt Mental Health, Mayor Josh Verhagen, education representatives from Tanana Chiefs Conference, FBI Special Agents, and members of the AK Air National Guard. Topics discussed included roles that community partners play to serve and support students, Nenana History, Cyber safety, digital citizenship, transition planning, and substance awareness and prevention. Students completed MAP Growth testing, which is one tool we use to inform appropriate course placement and identify students who may be in need of academic support. These tests will be taken again in the winter and spring, and staff will look at both growth and level of proficiency as one indicator of the effectiveness of our classroom instruction. Looking ahead, secondary students will begin attending classes and following the bell schedule on Monday, August 23. Elementary students will continue to build upon the excellent foundation that was established in K-6 classrooms throughout the week. Secondary students will have opportunities in the weeks ahead to discuss potential schedule adjustments. Much of the scheduling process is dictated by graduation credit requirements, optimal class sizes, and availability. This can result in limited options for change beyond what is currently scheduled. This is especially true for 9th and 10th grade students, with flexibility coming as credits begin to accumulate. Thank you all for your support in getting students to school this week. I am very much looking forward to meeting many of you at the Ice Cream Social tonight, Friday, August 20th (5:00pm) or at other school/community events throughout the year. Kind regards, David R. Huntington Principal, Nenana City School
dhuntington@nenanalynx.org
907-832-5464 (NCS office) District Website:
www.nenanalynx.org

Reminder- NCS will be hosting an ice cream social on Friday 8/20 at 5:00pm. Hot dogs, chips and ice cream will be served and community members can meet the new and returning students. Railbelt mental health associates will be onsite providing door prizes and facilitating ice breaker activities. Event will be at the main entrance on C street. We hope many of you are able to join us! -- David R. Huntington Principal, Nenana City School
dhuntington@nenanalynx.org
907-832-5464 (NCS office) District Website:
www.nenanalynx.org

Current guidance from the State of Alaska, Department of Early Education & Development (DEED), has Nenana City School opening in the fall in the Low Risk scenario. This means face-to-face instruction, social distancing, enhanced safety procedures, and enhanced cleaning measures will be in place in school buildings and on buses. Should risk levels change and learning shift partially or fully to online learning, student attendance in online class meetings is required, and students will be regularly assessed and graded, just as in their face-to-face classrooms. At the Medium Risk Level, a school may be open or closed depending on the community situation. If it is open, students will still go to school, and enhanced safety measures will be put in place.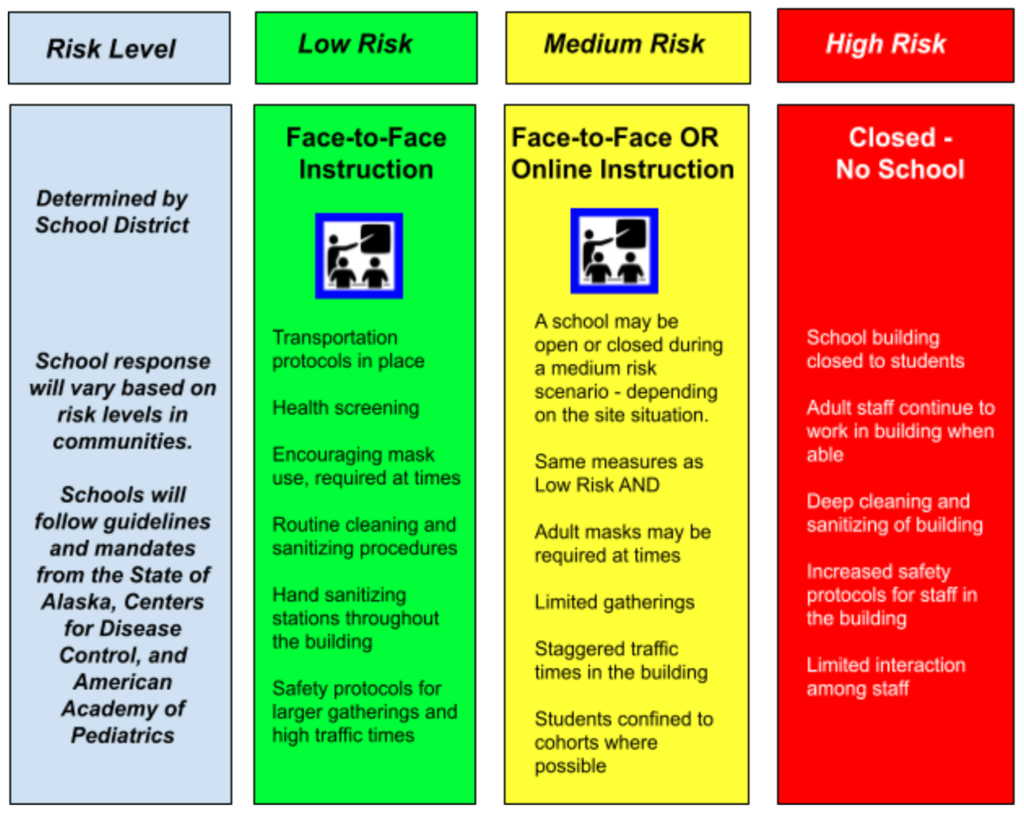 Here is a copy of the Consent for Covid Testing Form as well, this was mailed out to parents today as well.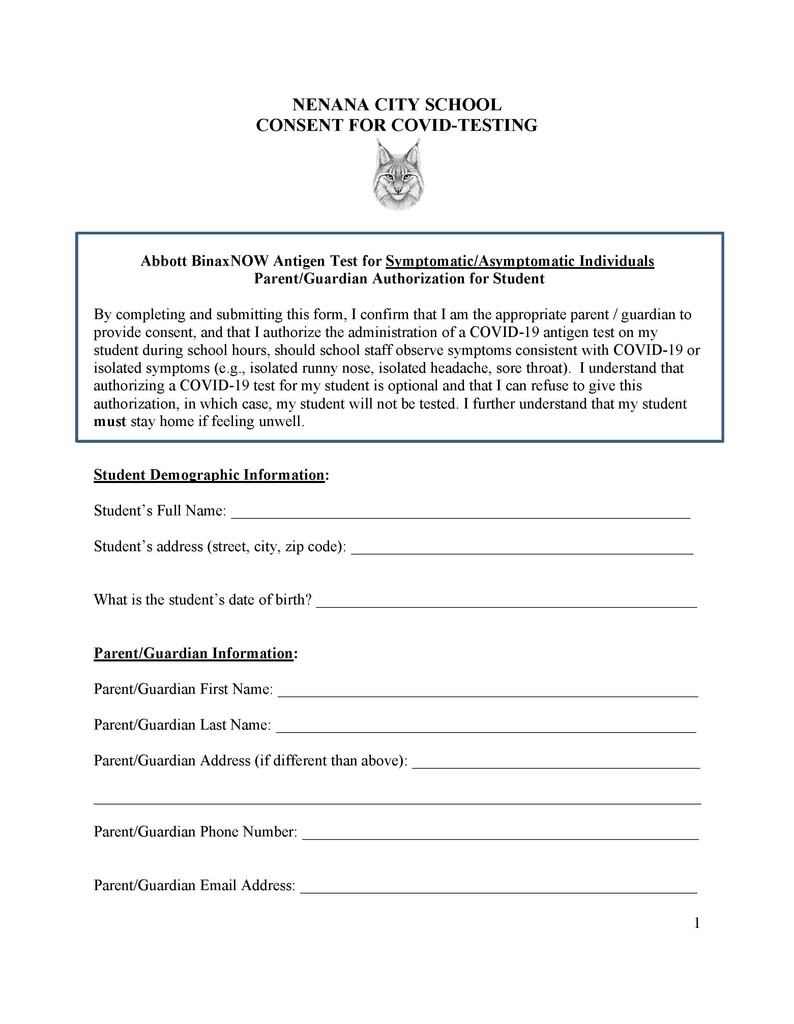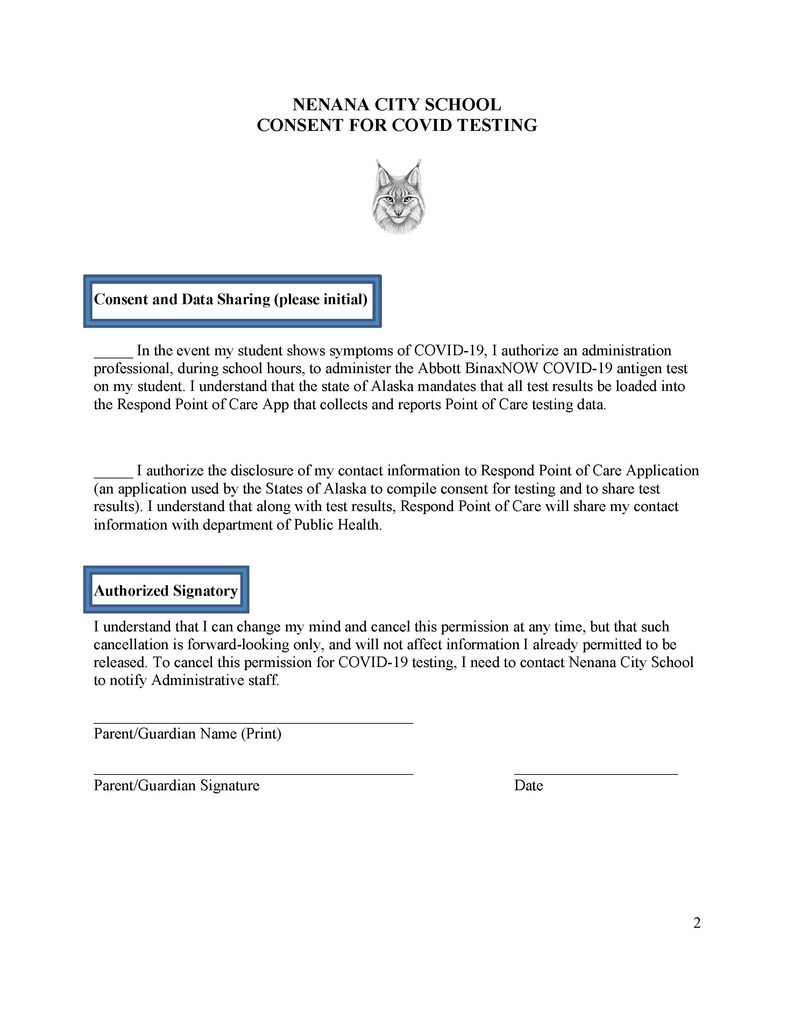 8-4-21 Greetings Lynx Family, Welcome to the 2021-22 School Year! It has been my pleasure getting to know many of you and the City of Nenana over the course of the past year. As we closed out the 2020-21 school year in person last May, the Lynx pride, resiliency and pursuit of excellence was on display. Moving forward, we will continue to focus on how best to capitalize upon the many silver linings and insights that accompanied our teaching and learning throughout the COVID-19 pandemic. The sometimes disruptive environment we found ourselves in demanded that staff, students and parents collaborated and innovated in ways that were before unprecedented. In many ways, students' learning experiences began to take on a personalized look and feel due to the transformative nature of technology and the creative methods used to leverage this. Surely, the coming school year will bring more of the same. Our staff is committed to doing all we can to ensure that we not only restore, but accelerate the learning experience of our students. Throughout the 2021-22 school year, staff will partake in a series of professional training workshops and a schedule of professional collaboration that will support our capacity to serve students' individual academic needs and enrich their personal growth. School operations and master scheduling have been designed to support our efforts to provide a safe, supportive environment for students. An emphasis has been placed on creating dedicated times throughout the academic week for students to reflect on the learning process, for staff to provide interventions, enrichments and tend to personal wellness of self and students. You will find pdf's of the master schedule in the following Documents folder on the school website; Nenana School - Current Year - Parents. In this folder, you will find many other pertinent documents as well. Among these are a copy of the 2021-22 School Calendar, the 2021-22 COVID-19 Mitigation Plan, the Consent for COVID-19 testing form and the Student Orientation schedule. School doors will open at 7:35am daily, with classes beginning at 8:00am. You will note a pattern in daily student release times. On Monday, Wednesday and Friday, school will end at 3:20pm. On Tuesday and Thursday, students will be released at 2:30pm. Mrs. Andy Corbin will be in touch with families regarding busing details. This structure has been designed to best suit our varying priorities while also aiming to provide the greatest degree of continuity for families within the confines of the school and work day. The first day of classes will begin on Monday, August 16, 2021. Throughout the week, staff and students will engage in a variety of culture building activities, hear from guest speakers, and orient to our day to day operations and expectations. Student schedules will be finalized throughout the week and secondary students (7-12) will be administered the MAP Growth Tests in Math, English Language Usage, Reading and Science. Results will assist in assuring appropriate course placement and streamlining intervention efforts. One area most impacted by the extended school closures throughout the pandemic has been the ability to share celebrations and engage with the Nenana community. On that note, please consider joining us for an Ice Cream Social on Friday, August 20, 2021. Serving will begin at 5pm at the main entrance on C street. Seating will be available inside and outside. With regard to all things COVID, please reference the Mitigation Plan. At this time, we are planning to have our school facility fully open with courses and instruction in-person. We will continue to monitor COVID-19 cases in our school and local community. Our face covering policies for students and employees may fluctuate based on local conditions. Currently, school officials have been informed by public health that there is no known transmission amongst the Nenana community. However, we are in a high risk region given our proximity to Fairbanks. Given this information, masks are encouraged, but not required in the classroom. Masks will be required in areas where distancing is difficult, such as assemblies and events in the gym. Visitors to the school must wear masks at this time. As a condition of optional masking, students and employees may be subject to on-site COVID-19 screening/testing. Please complete the Consent for COVID-19 testing form and return to the main office. Please note, per federal mandate, masking is required on all public transportation, which includes school busses. We will be asking everyone to maintain social distancing and will structure our classroom spaces, activities, and events accordingly. If at any time your child does not feel well, we ask that they refrain from coming to school. Please contact the main office in this event and have your child communicate with their teacher. If you have any specific questions, please reach out at your convenience. Thank you kindly, David Huntington Principal, Nenana City School
dhuntington@nenanalynx.org
907-832-5464

Dear Families, the following Mitigation Plan is being posted for public review and comment. This mitigation plan is part of the ARPA (American Rescue Plan Act). This plan will be reviewed every quarter to be monitored and/or revised as needed. Mitigation Plan can be found at this link:
https://drive.google.com/file/d/1ntJmEhikLnFREzEUGOI0uJPmGhLpd0oE/view?usp=sharing
If there are any comments or suggestions on the 2021-2022 Mitigation Plan, people should reach out to any of the following administrators: Nenana City School - Dave Huntington, Principal,
duntington@nenanalynx.org
Cyberlynx Correspondence School - Brian Rozell, Principal,
brozell@nenanalynx.org
Nenana Student Living Center - Joe Digrande, Director,
jddigrande@nenanalynx.org
Nenana City School District - Patrick Manning, Superintendent,
pmanning@nenanalynx.org